WOOLSINGHAM RAILWAY BRIDGE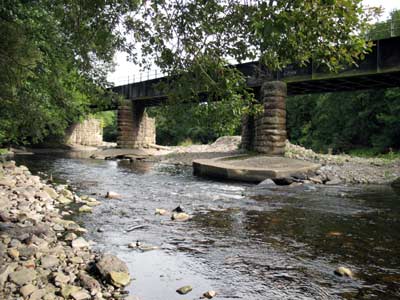 "The Wear valley was a magnet to the early railways because of the rich mineral deposits and two lines gained access - the Stockton and Darlington (as the Wear Valley Railway) in 1847, and the Stanhope and Tyne Railroad 13 years earlier, in 1834. The Wear Valley line ran up the valley from Wear Valley junction, and the line was eventually extended to Stanhope in 1862, and to Wearhead in 1895. The other line, the Stanhope and Tyne, dropped down the north side of the valley on two inclines, Weatherhill and Crawley, to reach quarries on the hillside above Stanhope."

North Eastern Branch Lines since 1925. K. Hoole. 1978.
Built for the Wear Valley railway in 1847, the bridge still carries trains on the re-opened Weardale Railway to a station on the south side of the river. Of iron construction it is one of several built to a similar pattern. It was built wide enough to take a double track should this ever have been needed. The stone piers have concrete bases. Trees on either side of the river give it a pleasing setting and the river bed is seen to be quite stony when the water is low.Sometimes called Stanners Close bridge.
Wolsingham is an old market town with shops and pubs and an old church. An agricultural show is held in the first weekend of September. A large steelworks existed here from 1864 to 1984.
wolsingham Railway Bridge Facts
Constructed - 1847

Type - beam, iron, 5 stone piers.

Position - Wolsingham, County Durham

Grid Ref: NZ 082 368
Wolsingham Railway Bridge