INTRODUCTION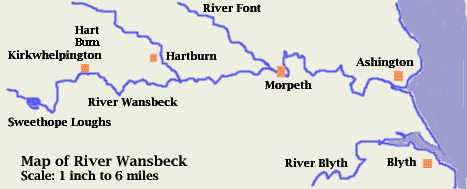 "The Wansbeck sings with all her springs,
The banks and braes give ear
And the wood that rungs wi' the sang she sings
I may no see nor hear
For far and far thae blithe burns are
And strange is a'thing near."

From A Jacobite's Exile. (1746) Algernon Charles Swinburne.
The Wansbeck is not perhaps so well known as some other north east rivers but it does not lack interest and there are many pleasant walks to be had along its banks. Rising on the moors of mid Northumberland near the Wanney Crag west of Sweethope Lough through which it runs, it continues past the attractive village of Kirkwhelpington through quiet countryside. Flowing in the valley between low hills, it passes the Wallington estate and is joined after a few miles by the Hart Burn south of the village of that name. Winding its way eastwards it reaches the village of Mitford with its old bridge where the River Font joins, and on to the old town of Morpeth, the administrative centre of Northumberland. Several bridges here, and then past the magnificent railway viaduct near Pegswood. In its final stages the river passes Sheepwash, Stakeford and Ashington to reach the North Sea south near the former coalmining areas of North Seaton and Cambois.
Site Organisation
The website commences its passage along the River Wansbeck at its mouth near North Seaton, moving westwards upstream to eventually reach the moors around Wanney Crag where it has its source.
It is split into sections, first with the bridges between the river mouth and Morpeth, then on from Morpeth to Mitford, then on to Middleton and finally past Wallington to Sweethope Loughs and the river's source. Then come pages about former bridges which no longer exist, fords, and finally a list of references and links to other websites which may be of interest.
Morpeth Stepping Stones