MORPETH TO MITFORD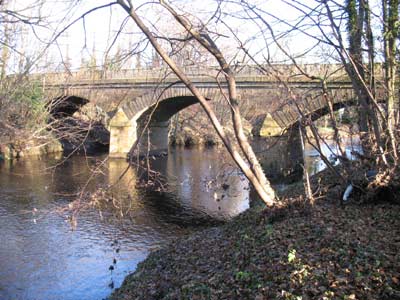 "Morpeth began as a crossing of the River Wansbeck. Curiously, though, the major buildings, the castle and the parish church, developed south of the river, while the town itself grew on the north bank."

The Buildings Of England, Northumberland. N Pevsner. 1992.
"Compared to Whalton, which is all of one piece, Mitford is a Jekyll-and-Hyde of a place. If you come to it direct from Hartburn on the B6343 you will certainly want to hurry on to Morpeth. Just below the village, however, on a parallel road nearer the Wansbeck, you enter another world: fields and trees; a church spire; the bastions of a medieval castle; a Carolingian gateway; and a park and classical facade of a mansion built by John Dobson in 1823."

The Companion Guide To Northumbria. Edward Grierson. 1976.
Morpeth is on a loop in the river, turning eventually west towards Mitford with the B6343 road crossing from the north to the south bank and back again over two old bridges. Morpeth's many bridges include a footbridge built on the remains of a medieval bridge. There are riverside walks from the town past the stepping stones and the bridges going on towards Mitford under the A1 bridge to the old Mitford bridge crossing the Wansbeck. Mitford is an old settlement and has a castle, now ruins, and a church, originally 12 century but with many rebuildings and restorations.
The River Font joins the Wansbeck from the northwest just east of the village.
Opening Dates of Present Bridges
Morpeth Chantry Footbridge - 1869.

Morpeth Elliott Footbridge - 1982.

Morpeth Oldgate Bridge - 1970.

Morpeth Stepping Stones - not known.

Morpeth Skinnery Footbridge - 1904.

Morpeth Lowford Bridge - 1836.

Morpeth Highford Bridge - 1836.

Morpeth Highford Pipe Bridge - not known.

Mitford A1 Bridge - 1970.

Mitford Bridge- mid 18th century.

Mitford Footbridge - not known.
Highford Bridge