.....and other bridges of North East England
This website has been archived by the British Library
"...I cannot get to my love, if I would dee,
The water of Tyne runs between him and me,
And here I must stand with the tear in my e'e,
Both sighing and sickly, my sweetheart to see..."

The Water Of Tyne. (Traditional Song)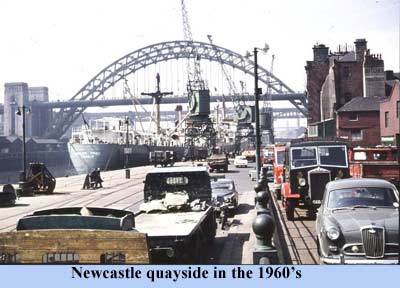 The River Tyne in north east England has many bridges, the most famous of them being those linking the city of Newcastle upon Tyne with the town of Gateshead, but there are a great many more. Some are within the County of Tyne and Wear but most lie in Northumberland, with more in neighbouring Cumbria.
A mile or so west of Hexham the Tyne divides. The South Tyne goes west to Haltwhistle, then turns south towards Cumbria, reaching its source deep in the Pennine moors.
The River North Tyne meanwhile runs north west, up towards the borderlands, the haunt of the reivers of times gone by, to the Kielder Reservoir and beyond to its disputed source near the Scottish border.
You can explore ALL the bridges on the Tyne, past and present, with photographs; read about the ferries, Tyne Tunnels and the structure and design of bridges and how the Tyne influenced their development.
At the entrance to the River Tyne stand two great piers. Soon after the River Tyne Commissioners assumed responsibility for the river in 1850, work commenced (in 1855), although the piers suffered much damage during construction, delaying opening of the South Pier until 1895, while the North Pier was not finally completed until 1909. The Piers made the harbour immeasurably safer, major hazards like the Black Middens and the Herd Sands rarely now presenting problems for vessels entering or leaving the river. Although the once massive coal exports are a thing of the past, the Port of Tyne is still busy with other cargoes, and the International Ferry Terminal brings tourists. The first bridge crosses some 8 miles up river, and moving upstream from the river mouth evidence remains of the shipyards, coal staiths and various engineering works that once lined its banks. New development is all around, however, and nowhere more than at Newcastle and Gateshead Quays where the first bridges are encountered.

Please note: There is another River Tyne in Scotland's border country but this site is not concerned with that other river.
With the addition of Bridges on the River Tweed the website now covers not only the River Tyne's bridges, but those of all the major north east rivers which flow into the North Sea.
New Tyne Tunnel opened midnight 25 February 2011.
Old tunnel re-opened November 21 2011.New: Bridges on the River Tweed
The Bridges


The Bridges on the Tyne range from the mighty Tyneside bridges between Newcastle and Gateshead to the smaller bridges upstream, including the many footbridges on the South and North Tyne affording a means of crossing the river to local residents and visitors alike.

On this website bridges which no longer exist are covered too, and there are sections about Tyneside's many ferries, old and new, plus the Tyne tunnels. Some facts about each bridge are given where known.


Map of River Tyne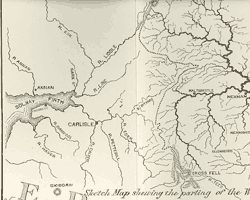 &nbsp