GATESHEAD MILLENNIUM BRIDGE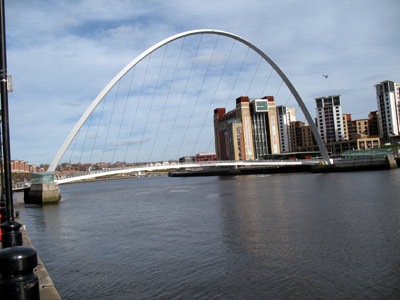 The second most recent bridge to be built on the Tyne, (Haydon Brdge by-pass bridge is currently the newest.), and arguably the most stunning and certainly the most unusual. It is a pedestrian and cycle bridge linking the re-developed waterfronts of Gateshead and Newcastle. As the celebrations for the Millennium approached, the Millennium Commission was prepared to pay half the costs of outstanding projects to which it gave its approval, and Gateshead council submitted a bid for funding after a competition was held for a design for an attractive new bridge.
From a short list of six the winning design was announced in 1997 and funding was granted in 1998 from the Millennium Commission. The winning design was by civil engineers Gifford and Partners and Wilkinson Eyre Architects and after the necessary approval of of various bodies was obtained work went ahead in 1999, Harbour and General being the contractors. Quay walls were repaired, foundation piles were driven and coffer dams built.
Meanwhile the actual bridge was being constructed by Watson Steel of Bolton (the arch and deck, the former supporting the latter by means of steel cables), the opening mechanism in Sheffield while the frame was assembled locally at the Amec Yard at Wallsend. On 20 November 2000 the huge Dutch floating crane, Asian Hercules II brought the bridge up to the site between Gateshead and Newcastle quaysides. Many people congregated on the quaysides and on the Tyne Bridge to watch. Work then commenced to add the finishing touches which would enable the bridge to tilt to allow ships to pass. The first tilting was on 28 June 2001 and the bridge opened to the public on 17 September 2001. Widespread praise and several awards have followed and the bridge has proved to be popular with the public. Together with the Baltic Centre For Contemporary Art and the Sage Music Centre and other developments yet to be completed, Gateshead Quays has taken on a new lease of life and with the renovation and developments on the Newcastle side the riversides have become a popular leisure attraction after years of decay following the concentration of port facilities nearer the river mouth. Initally, cyclists and pedestrians were kept segregated, but now both paths across the bridge are open to pedestrians, often making it difficult for cyclists to ride over. Nevertheless, a welcome addition to the Tyneside Bridges. In 2012 the unsightly bollards were removed. These were originally installed to protect the bridge from ships but now thought unnecessary.
Gateshead Millennium Bridge Facts
Constructed - 1998-2001

Type - tilting, steel, electrically operated.

Position: three quarters of a mile east of Tyne Bridge, between Newcastle and Gateshead.

Grid Ref: NZ 264 640
Gateshead Millennium Bridge