SOUTH TYNE - RIDLEY HALL RAILWAY BRIDGE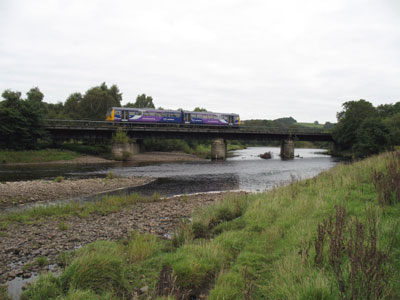 The third of the three bridges in this area built by the Newcastle and Carlisle Railway in 1838. The present bridge is an iron girder bridge, the second replacemnet of the original timber one designed by John Blackmore.The stone piers are the originals however. Railway number NEC-2/97.
The present bridge is a steel plate girder structure from Sir William Arrol and Co. It crosses the river at a point reached along a track near Ridley Bridge to the south of the Tyne. The river here winds slowly through the open meadows where sheep graze and wild flowers grow and rabbit holes puncture the ground.


Ridley Railway Bridge Facts
Constructed - 1907

Type - girder, iron, sandstone piers.

Position: 3m west of Haydon Bridge, Northumberland.

Grid Ref: NY 814 641
Ridley Railway Bridge