NEWBURN BRIDGE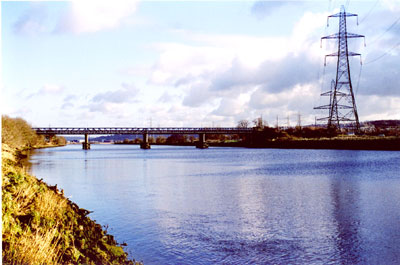 The final bridge in industrial Tyneside, this is a single carriageway road bridge controlled by traffic lights at either end and linking the Blaydon and Ryton area with Newburn, Lemington, Throckley and Ponteland and routes going north and west from Newcastle. Several fords and a bridge and a ferry have all existed at various times. Newburn was the first generally fordable point upriver on the Tyne and an obvious place for armies to cross in the past. The battle of Newburn was fought here in 1640, with a Scots victory over the English. In the 18th century a brewery dray of Messrs George Dunn's brewery of Swalwell was swept away while crossing, the driver drowning but the horses were rescued.
The bridge was built in 1893 for the Newburn Bridge Company by Head Wrightson of Thornaby-on-Tees and designed by Sandeman and Moncrieff of Newcastle. It is a steel lattice-girder structure and there are four spans, and it has very deep foundations of over 70 feet below high water. Originally a toll bridge, it was bought by Northumberland in 1947. The toll house was at the north east end but has been demolished. Water, gas and telephone cables are also carried over the bridge. In 1960 a weight restriction of 9 tons was placed on the bridge but when it was narrowed to single line traffic this was raised to 10 tons.
Newburn dates from Saxon times and became an important industrial town with coal-mining, railways, ironworks, brickworks, coke ovens, etc. and a pumping station (now a brewery and pub/restaturant) used by a water company. There were until fairly recently the North and South Stella power stations on either side of the river, both coal fired and served by rail. Railway engineer George Stephenson was married here twice in St Michaels church. After Newburn the Tyne leaves behind its coaly, industrial past and becomes increasingly rural, with Ryton on the south bank the first example of this transformation. But now that we seem to be in the post-industrial age there are fewer and fewer examples of Tyneside's past glories and at Newburn now is a riverside park and a rowing club, recreating the Tyne's illustrious past as the venue for hugely popular rowing contests with names like Clasper, Renforth and Chambers to the fore.
The bridge underwent major renovation in 2007 at a cost of about £600,000 when it was closed to motor traffic for several months. The lower picture shows the Boat House pub at Newburn with stones marking the height of floodwaters in various years.
Newburn Bridge Facts
Constructed - 1893

Type - 4 span, steel lattice-girder on 3 wrought iron, concrete-filled cylinders.

Position: at Newburn, Newcastle.

Grid Ref: NZ 165 652.
Newburn Bridge