MEDIEVAL BRIDGE NEWCASTLE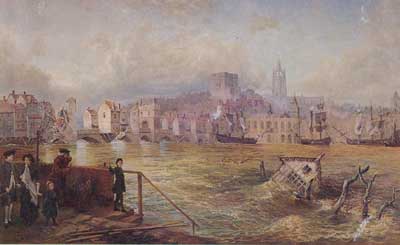 There may have been more than one bridge at Newcastle in the middle ages but the first of which anything is known was probably built in the late 12th century replacing a bridge destroyed by fire in 1248. This was a stone arched bridge with huge piers built on the site of the Roman bridge and was a joint enterprise between Newcastle and the Bishop of Durham and the Bishop's arms appeared on a tower at the Gateshead (in County Durham) end of the bridge. Towers with gates and a drawbridge and portcullis reflected the bridge's military significance and a chapel was a feature not unusual for the times. A prison was also incorporated and several shops and houses, particularly at the Gateshead end, completed its picturesque appearance.
The upkeep of the bridge was divided between the town of Newcastle and the Prince Bishops of Durham and boundary stones marked their limits of responsibility. Rivalry between the town and the Bishops caused friction on occasion. Newcastle eventually controlled six arches to the Bishop's four. Frequent repairs were needed over the centuries, the last being effected in 1770 after an adverse report on its condition. But one year later the bridge succumbed to the devasting great floods which followed three days of heavy rain which eventually carried parts of the bridge away on the morning of Sunday November 17. The middle arch collapsed to be followed by two more. Shops and houses fell or were rendered unsafe and six people lost their lives. More arches collapsed in the period to December 7 and this completed the destruction of the old bridge. An arch remains under the Swing Bridge roadway at the Newcastle side.


Medieval Bridge Newcastle Facts
Constructed - late 12th century.

Type - arch, stone, originally 12 arches.

Position - on site of the present Swing Bridge.

Grid Ref - NZ 253 637
Medieval Bridge Newcastle