THE TYNE BRIDGE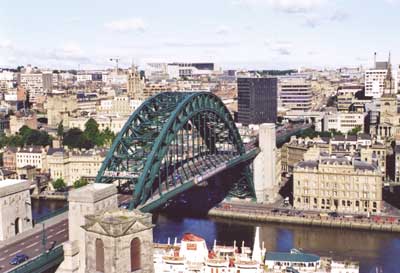 Linking the City of Newcastle with the town of Gateshead, the Tyne Bridge is the most celebrated of all the Tyne's bridges. Though only opened in 1928, it quickly won a place in the hearts of local people. It is an icon, both a symbol of Tyneside's industrial past and its recent re-generation. It has featured in films, on television and been the subject of thousands of photographs. Ships from all over the world have tied up in sight of its massive steel arch and millions have passed over it, by car, lorry, bus, tram, motorcycle, bicycle and on foot.
There are other similar bridges, one at nearby Wylam and famous ones in Sydney and New York but none of these can match the Tyne Bridge in the affections of Tynesiders. A new bridge had been proposed many times but in 1923 serious plans were afoot in the two councils on either side of the river to obtain the necessary powers. The bridge was by then urgently needed to accommodate increasing vehicular and tram traffic, and providing employment for hundreds of men at a time of increased unemployment was also a factor. The corporations of Newcastle and Gateshead sought an Act of Parliament in 1924 and with government financial help construction began in 1925. Navigational clearance was always a factor to be considered in bridge building on the Tyne and this is reflected in its height above water. Dorman Long of Middlesbrough were the contractors and Mott, Hay and Anderson the designers, using a modified design based on the Sydney Harbour Bridge*, already under construction for 7 months by the time work commenced on Tyneside, and completed in 1932, over 3 years after the Tyne Bridge. *See this website for information on the Sydney Harbour Bridge.
See BBC Nation On Film for film clips of the construction of the Tyne Bridge.
The Alnwick County Gazette and Guardian reported on 3 March 1928;

"Tyne Bridge-Upper booms Joined At 11.45 Sat Morning

200 Feet Over River

An inch and one-eighth seperated the booms, cables were slackened off, then the ends closed over the pin in the middle without a tremor.

Rockets were fired and flags broken to announce that the feat had been performed. Members of Bridge Committee and municipal officials watched from Swing Bridge."
The Tyne Bridge was the biggest single-span bridge in the UK when opened by King George V on 10 October 1928. Since then it has had several renovations and been re-painted in the original green. At either end are granite towers which house lifts, although they are no longer in use. Trams ran over it from 1928 until 1950 and bus services have always used it, though never trolley buses, Gateshead never having a trolley system. The bridge carried the A1 trunk road or Great North Road from the south to Scotland which then ran through the centres of Gateshead and Newcastle. Firework displays have taken place from its structure and people have abseiled over its sides. Many ships have passed under it, mostly colliers on their way to or from Dunston or Derwenthaugh staiths. It will celebrate its centenary in the not too distant future and no doubt it will be as important to Tyneside then as it is now.
Tyne Bridge Facts
Constructed - 1925-28

Type - steel arch, hinged at each end.

Position: Between Swing Bridge and Gateshead Millennium Bridge.

Grid Ref: NZ 253 638
The Tyne Bridge