NORTH TYNE - RAILWAY BRIDGE TWO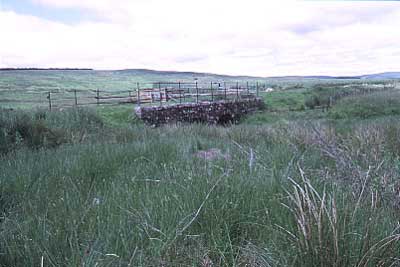 "This station (Deadwater) must be one of the least important in the British Islands, serving as it does so sparsely populated a district. No proper roadway leads to it, access being obtained by a footpath across a field. It is under the charge of one female official, who is empowered to issue tickets to but six stations."

The Border Line, James Logan Mack. 1924.
The final railway bridge in England on this route, on the Deadwater Burn but not strictly on the Tyne, is another small bridge in marshy grassland over the narrow burn which adds its waters to the North Tyne. Not far along the line lies the former station at Deadwater, now a private house with the trackbed and platform neatly kept. The railway trackbed can be walked and there are gates to control animal movements. The hills are low on every horizon, the skies are big and there is a feeling of isolation somehow not felt on the South Tyne. The river seems lifeless, echoing the name Deadwater, and the border and Scotland are within sight.


Railway Bridge Two Facts
Constructed - 1862.

Type - arch, 2 span, stone.

Position - on Deadwater Burn, 600 yards south of Deadwater, Northumberland.

Grid Ref - NY 605 965
Deadwater Station