TYNE PEDESTRIAN AND CYCLIST'S TUNNEL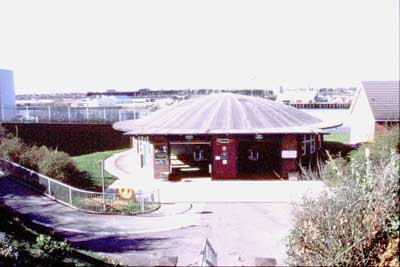 Rivalry between the various boroughs on either side of the Tyne has sometimes played a negative role in the development of river crossings. Between the two World Wars proposals for a tunnel were championed by a joint committee of representatives from Newcastle, Jarrow, Northumberland and Durham. The preferred crossing point was from Jarrow to Howdon but this was unacceptable to a meeting representing all authorities on Tyneside some of whom pushed for a crossing at their own part of the river. The Ministry of Transport at first favoured a tunnel between North and South Shields, and later between Jarrow and Howdon. A Parliamentary Act in 1946 authorised road, cyclists and pedestrian tunnels and work on the latter two tunnels began in 1947, the road tunnel being deferred. Boring was from both sides of the river, geological problems and old mine workings lengthened the work but tunnelling was completed in 1950 and the two tunnels were opened in July 1951 by the Minister of Transport, Alfred Barnes. The cost was £900,000, three quarters of which was paid by the Ministry Of Transport and the balance by Northumberland and Durham County Councils. The pedestrian tunnel is slightly east of the cyclists tunnel but both share the escalators and lifts.
The tunnels were much more heavily used than the previous ferry crossing, which still remained open until the road tunnel was opened in 1967. The steady decline of industry, especially shipbuilding, greatly reduced usage of the pedestrian/cyclist's tunnel and after the opening of the road tunnel in 1967 it further declined. The cycle tunnel is part of the national cycle network and the tunnels are Grade II listed. They are always open and have seen some increase in use in recent years. The tunnel colour scheme is green and white and the tiles are as originally installed. The escalators were the longest in the world when opened and are still the world's longest wooden escalators. There are 306 steps.
The tunnel is curently closed , probable opening date - May 2018. It is planned to take the east side escalators out of service and replace them with lifts which rather than being vertical will descend and ascend at the same angle as the escalators they replace. The west side escaaltors will remain as a feature but be non-operational. The existing vertical lifts will also be in use.
Tyne Pedestrian Tunnel Facts
Constructed - 1947 -1951.

Position: between Jarrow and Howdon. Tyne and Wear

Grid Ref: NZ 330 659
Tyne Cyclist's Tunnel