WYLAM RAILWAY BRIDGE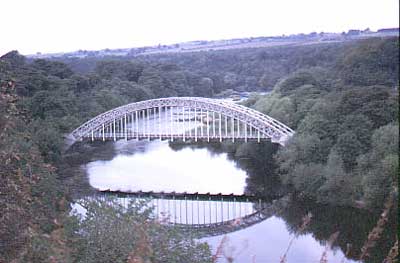 Known locally as the Points Bridge and situated at Hagg Bank, just west of Wylam, this is an impressive single-span arch bridge in an attractive location at a bend on the river. It was built by the Scotswood, Newburn and Wylam Railway and cost £16,000. It was opened to traffic 6 October 1876. The ironwork is by the famous firm of Hawks, Crayshay & Co. of Gateshead with masonry and foundations by W E Jackson & Co. of Newcastle and the engineer was W G Laws. It was designed with a single span to avoid building piers in the river bed under which were shallow mine workings.There are similarities between this bridge and the Tyne Bridge.
Just beyond the bridge the railway made a connection with the Newcastle and Carlisle Railway at West Wylam Junction, controlled by a tall signal box, which no longer exists and nearby was the junction giving access to West Wylam colliery. Freight trains were the main users of the bridge although some passenger trains on the branch were extended to Hexham and it was used by excursion trains. The line sometimes saw main line expresses when both the East Coast Main line and the main Newcastle and Carlisle line via Blaydon, the usual diversionary route, were both closed, and Kings cross - Edinburgh trains were diverted via Carlisle. The railway closed on 11 March 1968 and the rails lifted in 1972. It is now used by pedestrians and cyclists as part of a route between Newburn and Ovingham.
A German aircraft Heinkel 111K attacked the bridge during World War 2 in the belief that it was the Tyne Bridge but their bombs fell between West Wylam and Crawcrook.


Wylam Railway Bridge Facts
Constructed - 1874-76

Type - arch, single span in wrought iron, 240 foot long.

Position: at Hagg Bank, near Wylam, Northumberland.

Grid Ref: NZ 110 642
Wylam Railway Bridge