NORTH TYNE - FALSTONE BRIDGE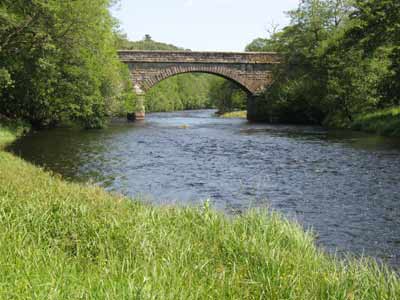 Falstone is a once remote village on the north side of the river approached by an old stone bridge built in place of a ford. The coming of the railway made travel easier and helped increase the population. Some coal mining was carried on nearby but the area was essentially rural. The bridge was largely financed by Sir Johm Swinburne and cost £3140, local landowners often being the instigators of rural bridge building as a means to aid trade and the movement of minerals and other products. It was part of the toll road to Scotland, surveyed by Thomas Telford and built to carry coal from the Swinburne mine at Lewisburn. The engineer was Henry Welch and the contractor Surtees and Bell.
Just beyond Falstone the river has been submerged by the massive Kielder Reservoir scheme. This is walking, shooting and fishing country. The river valley broadens out here and the forests to both north and south dominate the landscape.


Falstone Bridge Facts
Constructed - 1843

Type - three arch, stone.

Position: at Falstone, Northumberland.

Grid Ref: NY 723 872
Falstone Bridge