OLD REDHEUGH BRIDGE 1, NEWCASTLE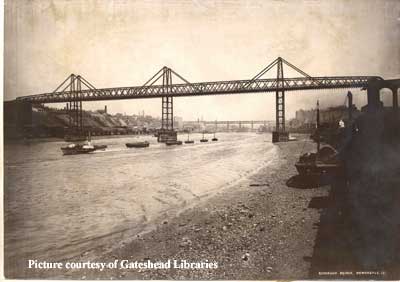 The need to link the western edge of Newcastle and Gateshead was raised in 1830 and again in 1859 but neither of these proposals, both involving a combined road and rail bridge, did not find favour. The latter scheme failed because of opposition from the North Eastern Railway who had their own plans. The developer of this later proposal, Richard Crail, then proposed a road only bridge and formed a company to promote it in 1865. Parliamentary approval for the bridge was agreed in 1866, sufficient capital having been raised, and construction started in 1868. The engineer, Thomas Bouch, designed a bridge with three piers and a girder-supported roadway. The columns rising from the piers were braced. at either end were stone-arched viaducts. Progress was slow due to various problems, both financial and practical. The bridge finally opened on 1 May 1871 but only for pedestrians, vehicular traffic had to wait untol June. A toll-house was at the Newcastle side but revenue was less than hoped for and it took some developments on the Gateshead side to ensure helthy dividends were paid. Structural faults were soon evident and by 1895 were serious enough to make building a new bridge a more attractive proposition than repairing the old one. The Company sought advice and decided on a replacement bridge.
Thomas Bouch, later Sir Thomas, the bridge's designer, was also the engineer for the ill-fated Tay Bridge which linked Dundee with Fife and which collapsed in a severe gale in December 1879 when a train was crossing. It is thought 75 people perished in the disaster and Sir Thomas who was then engaged in designing a bridge across the Firth of Forth was removed from the project. However, he also designed the Hownes Gill viaduct near Consett for the North Eastern Railway and this still stands and is in use today by walkers and cyclists.


Old Redheugh Bridge 1 Facts
Constructed - 1868-1871

Type - beam, 4 spans.

Position - 400 yards west of King Edward Bridge.

Grid Ref - NZ 245 632
Old Redheugh Bridge 1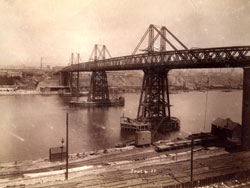 Picture courtesy of Newcastle City Libraries