SOUTH TYNE - HEXHAM TO HALTWHISTLE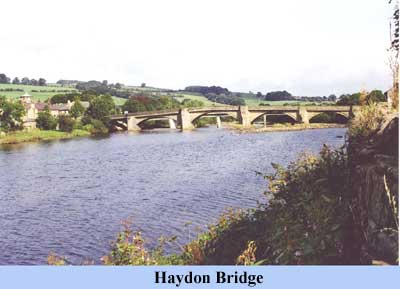 "Tender as the tides of Tyne
In the salmon-time of spring when the river
Was a flowing rock with grains of silver
Dark Hadrian Came"

(J C Grant)
Beyond Hexham the river divides, and the South Tyne begins a journey which will eventully take it into Cumbria and up to its source high in the Pennines. This stretch of river is very rural, meandering past farmland and never very far from the Roman Wall, a few miles to the north.
Two miles west of Hexham, the river reaches the hamlet of Warden in the angle between the now separated Tynes. A railway bridge carries the Newcastle to Carlisle line across and a little further upstream a road bridge crosses from West Boat to Bridge End and Warden. In five more miles comes Haydon Bridge with its ancient and modern bridges. Soon after passing Haydon Bridge the Tyne is joined by a major tributary, the picturesque River Allen. At Bardon Mill comes the first of many footbridges on the South Tyne, linking the village with some small settlements south of the river.
Finally, Haltwhistle is reached and the town boasts several bridges, five in all, including a former viaduct on the Alston branch railway, two modern road bridges on the A69 by-passing the town and two former road bridges which are now footbridges.


Opening Dates of Present Bridges
Warden Railway Bridge - date not known

West Boat Bridge - 1903

Haydon Bridge - 1970

Old Haydon Bridge - 1776

Haydon Bridge - South Tyne Viaduct - 2009

Tedcastle Railway Bridge - date not known

Ridley Bridge - 1792

Ridley Railway Bridge - date not known

Bardon Mill Footbridge - 1883

Haltwhistle A69 Bridge (east) - 1997

Haltwhistle Railway Viaduct - 1852

Haltwhistle Tyne Bridge - 1875

Bellister Bridge - 1968

Haltwhistle A69 Bridge (west) - 1997
Haltwhistle Railway Viaduct