INTRODUCTION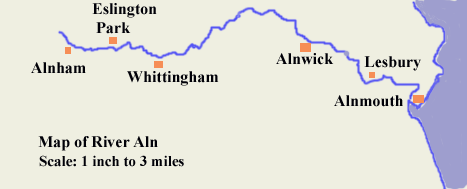 "For almost half its course the river Aln is not a very wide or deep river, consequently there are no bridges of any real importance until one comes to the now disused, but most charming and graceful Lady's bridge, which lies just west of Eslington Hall. The first most significant bridge in daily use over the Aln is not reached until we come to the village of Whittingham. Almost all of the crossings over the Aln west of Whittingham are achieved by a combination of fords and foot bridges and, whilst the river Aln on most occasions looks innocent enough as it ripples and meanders across these fords and under the footbridges, it can, when it is in full spate, become an extremely hazardous river as evidenced by the number of serious accidents that have occurred at these crossing points in the past."

The River Bridges Of Northumberland, Volume 2, The Aln. Tony Dickens.
The River Aln gives its name to two of the best known towns in Northumberland, Alnmouth and Alnwick. It rises near the foothills of the Cheviots amidst hills where sheep graze near the hamlet of Alnham. Flowing past lonely farmland to reach the pleasant village of Whittingham it continues its journey to the sea past more farms before turning northeast with many windings to pass the Hulne Park estates and the town of Alnwick. From there its final stretch is southeastwards, until in a series of loops it enters the sea at Alnmouth.
Thus from its beginnings in one of the loneliest parts of Northumberland it passes two busy towns to eventually reach the North Sea. The bridges range from fine old stone stuctures to modern footbridges and include the interesting bridges within Hulne Park and Robert Stephenson's magnificent railway viaduct near Lesbury.
Site Organisation
The website commences its passage along the River Aln at the town of Alnmouth, moving up river to the village of Lesbury and on to Alnwick. Then it moves through Hulne Park and on to Whittingham. Going further west past Eslington Park it reaches its source near Alnham.
It is split into sections, first with the bridges between the river mouth and Alnwick, then from there to Hulne Park, then on to Whittingham to reach its origin close by Alnham. Then come pages about former bridges which no longer exist, fords and ferries and finally a list of references and links to other websites which may be of interest.
Alnmouth