DENWICK BRIDGE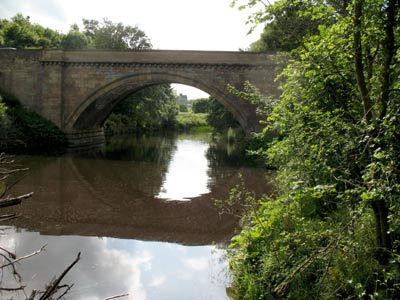 "Denwick bridge north-west of Alnwick, was built in 1766 by the first Duke of Northumberland. One parapet is made of a series of crescents linked together, the crescent being the badge of the Percy family. This is another bridge which occupied time in repairs, having never been envisaged as carrying today's traffic. In 1966, a bus dislodged sixty feet of coping, and knocked twenty-two feet of wall down."
Bob's Bridges. Robert Robson. 1998.
A handsome 18th century bridge built for Hugh, 1st Duke of Northumberland it was widened in 1924 with a concrete arch. The span is 56 feet and it has a height of 18 feet. There are two refuges for pedestrians on the upstream side with smaller ones on the other side. There are decorative balustrades of interlinked Percy crescents on the west parapet and the bridge is Grade 1 listed. There is a weir just above the bridge and another downstream, and at the northwest end a gate allows entry to a footpath through the Pastures, the name for the grassland north of the river. To the east is woodland.
The bridge links Alnwick with Denwick to the northeast on the B1340 road which also provides a link to the A1 road.
Denwick Bridge Facts
Constructed - 1766

Type - single arch, stone.

Position: Alnwick, Northumberland.

Grid Ref: NU 197 138



Denwick Bridge