WEST ASHGILL FOOTBRIDGE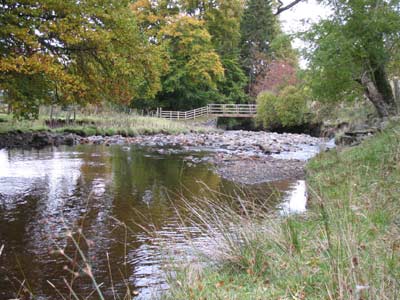 "The burn flings its waters over a precipitous rock into a wooded glen, and flows on hiding for the rest of its way."

The Tyne and its Tributaries. W J Palmer. 1882
This footbridge is on the South Tyne Trail and has recently (2009) been renewed. It formerly consisted of a long wooden plank with iron railings. Now it is entirely built of wood and is reached over a stile. On the south side a footpath leads up to the road. The river winds its way down the valley passing over many rocks, and the hills rise high above on either side, often with threatening clouds drifting across.
A little to the west along the South Tyne Trail is Ashgill Force where the Ashgill Burn flows under the Middleton-in Teesdale to Alston road and falls 50 feet from over a high rock into the wooded valley below. This is the highest of the falls in the district, though there are others. Passing along the road the traveller is hardly aware of the bridge across the head of the falls over which he is passing.
The walk up the glen is a pleasant one and on reaching the waterfall it is possible to stand behind the falls, pictured below.
West Ashgill Footbridge Facts
Constructed - date not known.

Type - beam, wood.

Position: between 1m and 2m south of Garrigill, Cumbria.

Grid Ref: NY 393 757
Ashgill Force