SOUTH TYNE - WARDEN BRIDGE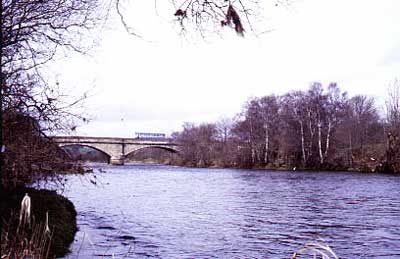 "(Warden) Handsomely situated among the trees near the confluence of the North and South Tynes."

The Buildings Of England, Northumberland. N Pevsner. 1992.


A ford was once the means of crossing the Tyne near here and the Boatside Inn was once near a ferry called The West Boat, some distance west of the ford, linking Warden and nearby Fourstones with Hexham. A chain bridge (or suspension bridge) dating from 1826 and costing £5000 was then built and a toll was charged. It collapsed under the weight of a steam thresher in 1877 and was rebuilt, eventually being replaced in 1903 by a bridge erected by Northumberland County Council from which the toll house still stands on the south side. A plate on the bridge reads 'County Council of Northumberland; His Grace The Duke of Northumberland KC. Chairman; Sir Henry H Scott Chairman of Bridges and Roads Committee; G B Binbridge Esq. Vice Chairman of Bridges and Roads Committe; J A Bean. Engineer and County Surveyor. November 1903.' At Warden is the old church of St Michael with its graves protected against grave-robbers by iron bars. The Boatside Inn is at the north end of the bridge at Bridg End and another pub, the West Boat, once existed not far from the other end.
Warden Bridge Facts
Constructed - 1848

Type -arch, 2 arches, stone.

Position: 2m west of Hexham, Northumberland.

Grid Ref: NY 910 660
Warden Bridge