KING EDWARD BRIDGE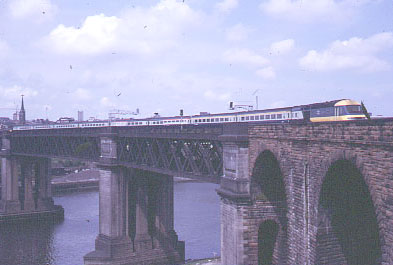 Known to generations of railwaymen as the KEB the King Edward VII Bridge was needed at a time when rail traffic over the High Level bridge was increasing and the inconvenience of trains having to reverse out of the Central Station to continue their journey north could no longer be tolerated. The bridge was built for the North Eastern Railway Company (NER), designed by Charles A. Harrsion of the NER, and constructed by the Cleveland Bridge and Engineering Company. Work commenced in 1902 and the bridge was opened by King Edward VII on 10 July 1906 but not brought into regular use until October 1st. The usual method of testing with several locomotives crossing the bridge was used.
Problems with foundations meant that plans for a girder span at the Gateshead side were changed and stone arches used instead. Caissons support the three granite river piers and massive steel lattice girders carry the four railway tracks. The viaducts on the south side are of red sandstone. The new bridge, together with the High Level completed a loop of railway tracks using both sides of the Tyne making train movements easier. Trains from north or south of Newcastle could now enter or leave via the new bridge and the west end of Central Station, which now became a through station for north-south trains. At the Gateshead end are two viaducts, one turning west and one east so that trains can be sent in either direction. The four tracks ar now just three and the track layout has been simplified following the closure of the locomotive shed at Greenesfield and perhaps also as a consequence of the reduction in the number of freight trains using the bridge.
The King Edward bridge is arguably the most solid-looking bridge on the Tyne as can be seen by standing on the river bank in Gateshead and looking up. The bridge was wired for the electric train services now using the East Coast Main Line. It is Grade Two listed.
King Edward Bridge Facts
Constructed - 1902-06

Type - beam, steel lattice girders on stone piers

Position: Between Metro and Redheugh Bridges.

Grid Ref: NZ 247 632
King Edward Bridge