SOUTH TYNE - HAYDON BRIDGE
- SOUTH TYNE VIADUCT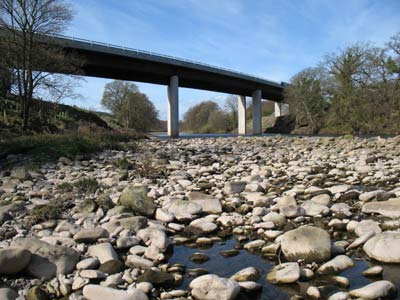 Haydon Bridge had long campaigned for a bypass for the town to relieve the burden of heavy traffic on the A69 - 12,000 vehicles an hour - which passed through the main street. The 3km bypass to the south of the village opened on 25 March 2009 and a new bridge was thus added to the Tyne crossings. the villagers are now spared the congestion, pollution and noise which was a daily feature of their lives.
A public enquiry was held in 2006 and work on the 1.8 mile (2.9km) bypass and bridge commenced in January 2007, the cost being £33m. It was completed on schedule. The viaduct spans both the Newcastle to Carlisle railway and the River Tyne. The contractor was CVC Highway Solutions.
South Tyne Viaduct Facts
Constructed - 2007-2009

Type - viaduct, 4 span, concrete.

Position: half a mile west of Haydon Bridge, Northumberland.

Grid Ref: NY 830 642
South Tyne Viaduct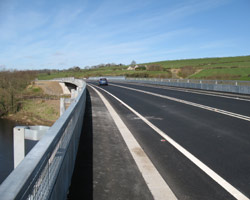 <