NORTH TYNE - KIELDER RAILWAY VIADUCT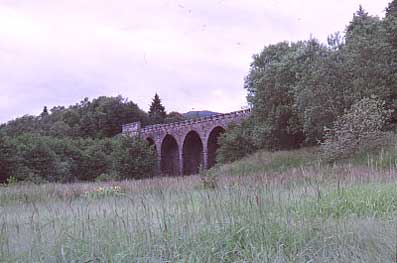 Kielder viaduct was fortunately preserved when the valley and much of the railway line between Falstone and Kielder was flooded when the reservoir was built. The design was by J F Tone, contractor William Hutchinson, and Peter Nicholson of Newcastle devised the method whereby each stone was individually shaped to fit the skew arch structure.
The viaduct was built in 1862 as a joint project of the Border Counties Railway and the North British Railway as part of its extension to Riccarton Junction. To obtain the approval of the Duke of Northumberland it had to be built with turrets and battlements, just why is not clear, though it was not without precedent for landowners to request such additions. The two railway companies were amalgamated in 1860. The railway hoped to tap the coal traffic from Plashetts but this proved disappointing,although there was some traffic from forestry. Passenger traffic was always limited, though the line did open up the North Tyne valley and help to increase the population. The North British Railway now had a route from Edinburgh To Newcastle via Hexham but compared poorly with the route via Berwick, taking almost five hours for the journey. When the line through Kielder closed, to passengers on 15 October 1956 and to freight on 1 September 1958, the viaduct was preserved by the Newcastle and Northumberland Society. It has now been restored and footpaths give access to allow walkers to enjoy the pleasing views from the top of its arches. A wooden footbridge once existed downstream near the viaduct at a much lower level, supported in the middle of the river by a post set in concrete.


Kielder Railway Viaduct Facts
Constructed - 1859-1862

Type: skew-arch, 7 arches, stone.

Position: 1m south east of Kielder, Northumberland.

Grid Ref: NY 633 924
Kielder Railway Viaduct