SCOTSWOOD BRIDGE (CHAIN BRIDGE)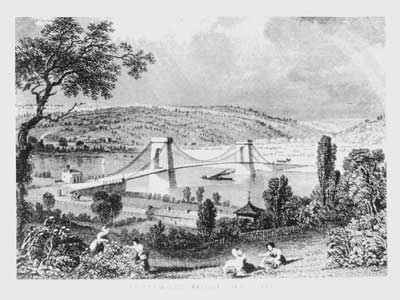 "We flew across the Chine Bridge reet inti' Blaydon Toon,
The bellman he wes caallin' there, they caalled him Jacky Broon,
Aa saa him taakin' te sum cheps an' them he wes persuadin'
Te gan an' see Geordy Ridley's show in the Mechanic's Haall at Blaydon."

The Blaydon Races. George Ridley. 1862
The bridge at Scotswood, known as the Chain Bridge, was the first bridge over the Tyne completed in the industrial era. Built to link the Gateshead - Hexham turnpike road with the north bank of the Tyne, the road was the idea of the Rector of Ryton. His idea attracted local landowners and various sites were considered, Newburn and Stella being ruled out because of the steep hills at Newburn and the obstruction of industrial works at Lemington. A toll bridge was proposed by the Scotswood Bridge Company Ltd., and following passage of the necessary Act Of Parliament in 1829 authorising a combined road and rail bridge work began, but only on a road bridge, the railway company having withdrawn its support. The designer was John Green, although the suspension bridge patent was held by Captain S Brown. Chains were hung across the river from stone towers on the banks and the road suspended from the chains on cables. In October 1829 scaffolding at the south abutment of the bridge was carried away by floods. Opening was on 16 April 1831 with a great deal of ceremony. A procession of dignitaries proceeded from The Assembly Rooms at Newcastle and along Scotswood Road to the bridge and thence to Blaydon (anticipating the route taken by travellers to the Blaydon Races in the 1862 song) and then Swalwell, re-crossing the new bridge on their way back to further celebrations at Newcastle.
Originally a 17 foot carraigeway it was widened in 1931 to nineteen and a half feet with two 6 foot footpaths, and strengthening was carried out by replacing the wrought iron suspension chains with steel wire cables. The decking structure was also improved and stiffening girders fitted. The weight limit of 6 tons ws increased to 10. Originally in a picturesque setting, it was gradually surrounded by all manner of industrial developments. Freed from toll in 1907 by Newcastle Corporation who had purchased the bridge in 1905 with help from neighbouring councils in buying approach roads also owned by the Scotswood Bridge Company. When the Tyne was the setting for championship rowing, Scotswood Bridge was the finish for races starting at the High Level Bridge and covering 3 miles.
The bridge was successful in raising money from tolls and its cost was soon recovered. When motor traffic expanded it became increasingly inadequate, particularly due to the width of the arches in the suspension towers restricting access. Repair costs were also becoming unacceptable. It was probably the most attractive of all the Tyneside bridges and the early engraving illustrates this to perfection. In later days when covered in soot and grime it still retained its attractive lines. Unfortunately attempts to preserve it failed and Tyneside lost a fine early example of the suspension bridge. The north abutment is all that remains. Closing in 1967 when a new bridge opened it had served for 136 years.


Scotswood Bridge Facts
Constructed - 1829-1831

Type - suspension.

Position - at Scotswood 3 m west of Newcastle.

Grid Ref - NZ 200 637
Scotswood Bridge 1933