PEGSWOOD RAILWAY VIADUCT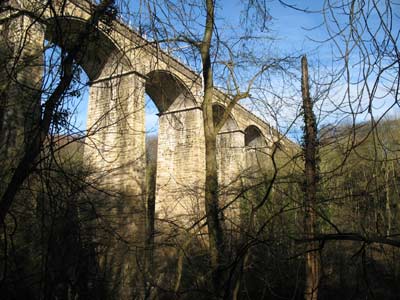 The second rail bridge on the Wansbeck and the most impressive. The bridge forms part of the Morpeth to Berwick section of the East Coast Main Line. The Wansbeck was spanned as part of the third section of the Newcastle and Berwick Railway which opened between Chathill and Morpeth on the 1st July 1847, the whole line being completed on 1st July, except for the bridge over the Tweed from Tweedmouth to Berwick. But the first bridges on the line were only timber trestle bridges and it was not until 1849-50 that they were replaced by the stone viaducts of today, over the Blyth, Wansbeck, and Aln, all designed by Robert Stephenson.
The viaduct is under a mile south of Pegswood, once a mining village, and it crosses the valley in a deep gorge with very steep banks, high above the river. A footpath passes under the viaduct on either bank from which its structure may be appreciated. It is a Grade II listed building.
Pegswood Railway Viaduct Facts
Constructed - 1849-50

Type - 9 arch, stone.

Position: near Pegswood,Northumberland.

Grid Ref: NZ 216 865
Pegswood Railway Viaduct