SWEETHOPE LOUGHS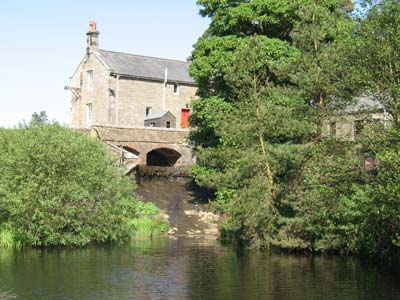 Sweethope Loughs are two stillwater lakes, the smaller one just east of the larger, and lie three miles west of Knowesgate. There is a crossing between the two lakes, an old stone bridge. The loughs are surrounded by hills and lined with trees, and are a favourite spot for fishermen.
The loughs are almost a mile in length, while to the north west are Great Wanney Crag and Little Wanney Crag, rocky outcrops with fir plantations nearby and surrounded by moorland. Between the two loughs is a dam where the old bridge crosses the river. At the eastern end of the smaller lough is a new footbridge giving access for fisherman to that shore.
The former Wansbeck Railway ran about a mile to the north and the trackbed still exists between Knowesgate and West Woodburn, climbing to 850 feet at Summit Cottages due north of Sweethope Loughs.The A68 road is two miles west of here, traversing some lonely moorland on its way to the Anglo-Scottish border, with many twists and turns and blind summits.
Sweethope Loughs Facts
Constructed - not known

Type - road bridge, arch, stone; footbridge, beam, timber.

Position: near Great Wanney Crag, Northumberland.

Grid Ref: NY 946 822 and NY 951 821
Sweethope Loughs Footbridge