SWEETHOPE LOUGHS ROAD BRIDGE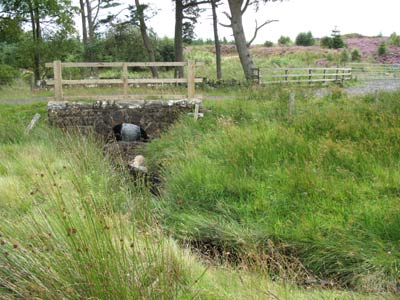 "Away back on the Wanney Hills we see another reservoir called Sweethope; thence comes the Wansbeck. It too is born amid the old forts and earthworks, and wanders past more peles, halls and battlefields. That lough is the breeding place for swans, mallards, coots and moorhens; and that fact singles it out for expert attention, while local mountain-climbers find good practice-climbs on the Wanny Crags where they rise above the Redesdale."

The English Gate. F.A.Wills. 1947.
The first bridge - actually a culvert - on the River Wansbeck and situated at the west end of Sweethope Loughs. It is crossed by the minor road going west from Knowsgate to the A68. A tiny arch bridge built of stone it crosses the narrow river only a few feet wide and would be scarcely noticed by anyone crossing it.
The river continues for a mile or so further west on the moors where it rises at a height of about a thousand feet. At the crossroads where the minor road joins the A68 the road continues west to Redesdale.
Sweethope Loughs Bridge Facts
Constructed - 1972

Type - concrete pipe with masonry headwalls at ends.

Position: Sweethope Loughs, Northumberland.

Grid Ref: NY 915 825
Sweethope Loughs Road Bridge