KIRKWHELPINGTON A696 BRIDGE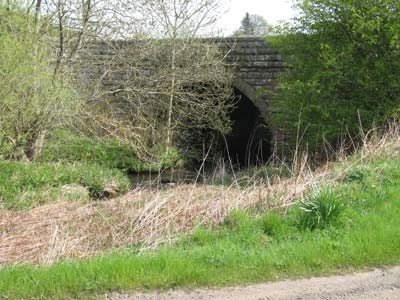 The last of the major bridges going up river, this bridge is on a main trunk route north from Newcastle towards Otterburn, beyond which it joins the A68 main route from Scotch Corner to Jedburgh in Scotland. It was widened in 1972 and realignment of the road just to the north to smooth out some harsh bends has been carried out in recent years.
The lower photograph show the downstream side of the bridge after widening using concrete. The bridge carries many heavy vehicles across the Wansbeck which is fairly narrow at this point.The road towards the border becomes more dramatic from here, gaining height as it crosses moorland to reach the village of Otterburn nine miles to the north. After joining the A68 it climbs around a series of bends through wild country up to the summit at Carter Bar from where there are spectacular views into Scotland.
Kirkwhelpington A696 Bridge Facts
Constructed - probably 1819

Type - single arch, stone, widened in concrete.

Position: Kirkwhelpington, Northumberland.

Grid Ref: NY 993 844
Kirkwhelpington A696 Bridge