MITFORD A1 BRIDGE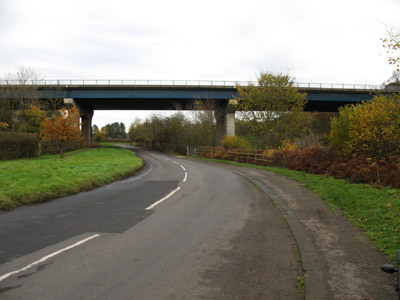 "The Coquet for ever! The Coquet for aye!
The Coquet, the King o' the stream an' the brae,
Frae his high mountain throne to his bed in the sea,
Oh! where shall we find such a river as he?"

Quoted in - 'The River Bridges of Northumberland, Volume 3, The Coquet'. Tony Dickens. 1981.
This bridge is part of the Morpeth Bypass which opened in 1970. It is a dual carraigeway carrying the A1 north between Newcastle and Berwick. Prior to this all traffic had to go via the town of Morpeth. The Wansbeck valley is steeply sided where the bridge crosses and heavily wooded making photography difficult. It can be reached along a footpath form Mitford brdge to the south of the Wansbeck.
Rivalling the A189 bridge at North Seaton for heavy use, it is a large structure high above the river, though the road ascends from both sides.
Mitford A1 Bridge Facts
Constructed - 1970

Type - beam, box girder, concrete.

Position: Mitford, Northumberland.

Grid Ref: NZ 177 857
Mitford A1 Bridge