HOWLETT HALL FOOTBRIDGE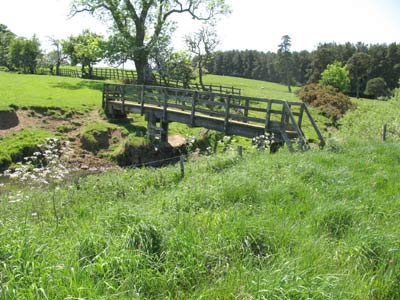 This footbridge is of fairly recent origin and was built by Northumberland County Council's Countryside Team to provide a Public Right of Way. It links bridleways from Howlett Hall and Low Angerton, both on the south side of the river, to a path on the north side giving access to a footbridge across the Hart Burn near Bluebell Wood.
The river is deeply incised here and the farm at Howlett Hall is quite near with a road leading under the old railway to the Bolam-Whalton road.
Howlett Hall Footbridge Facts
Constructed - 1990

Type - beam, timber.

Position: near Howlett Hall, Northumberland.

Grid Ref: NZ 104 843
Howlett Hall Footbridge