RIVERGREEN MILL FOOTBRIDGE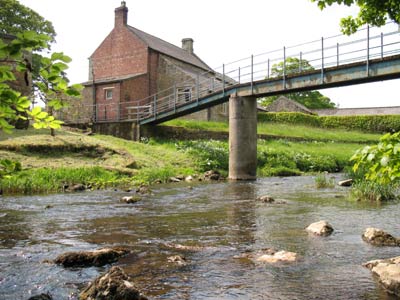 A footbridge on an isolated stretch of the Wansbeck. It is reached down a minor road going north from the Mitford to Meldon road. A grassed area, with some farm buildings and a house are all that is to be found in this very secluded spot. Across the river a track leads uphill to the B6343 road coming west from Mitford.
Once the only means of crossing was by a wire rope bridge (just downstream of the footbridge) tied to trees on either bank, a hazardous crossing at the best of times, with feet on the lower rope and hands on the upper. In winter with a hard frost it must have been terrifying, and yet schoolchildren used to cross this way to get to the north side to catch the school bus for Morpeth. The Council built the footbridge in the 1960s but then decided to re-route the bus the long way round to pick up children on the south side of the Wansbeck. The bridge is still in use by walkers. Apparently a women was once taken ill while using the wire rope bridge to cross and people have fallen into the river while crossing.
Rivergreen Mill Footbridge Facts
Constructed - 1960s

Type - beam,concrete, 2 piers.

Position: Rivergreen Mill, Northumberland.

Grid Ref: NZ 138 847
Rivergreen Mill Footbridge