NORTH SEATON TO MORPETH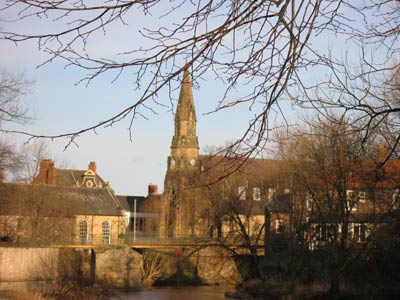 "Between Ashington and Morpeth, however, is the rural oasis of Bothal, containing some charming cottages with latticed windows, a splendid small church and a castle overlooking a curve of the river Wansbeck.

The Companion Guide to Northumbria. Edward Grierson. 1976.
The Wansbeck reaches the North Sea at Sandy Bay, North Seaton near the town of Ashington. There is a sandy beach on the coast at either side of the river but there are few buildings nearby. Once a ferry plied between the two river banks but now the first crossing point is the A189 road bridge, part of the Spine Road built in the 1970s to give better connections from Tyneside to Cramlington, Blyth, Ashington and Newbiggin. There is a weir next to the bridge and the river passes the Wansbeck Country Park, a pleasant area, with a few bridges, that can be walked, cycled or picnicked in. The river continues through wooded areas to the county town of Morpeth, with its many bridges, including one by Thomas Telford.
There are also two of the three railway bridges on this section, one a freight line and the other carrying the East Coast Main Line north to Edinburgh.
Opening Dates of Present Bridges
North Seaton A189 Bridge - 1974 and 1998.

North Seaton Railway Bridge - 1927.

Stakeford Bridge - 1994.

Sheepwash Bridge - about 1900.

Sheepwash Footbridge - 1968.

Bothal Footbridge and stepping stones - not known.

Bothal Bridge - not known.

Pegswood Railway Viaduct - 1850.

Morpeth East Footbridge - not known.

Stobswood Footbridge - not known.

Morpeth Telford Bridge - 1831.
Stakeford Bridge