NORTH SEATON RAILWAY VIADUCT
(THE BLACK BRIDGE)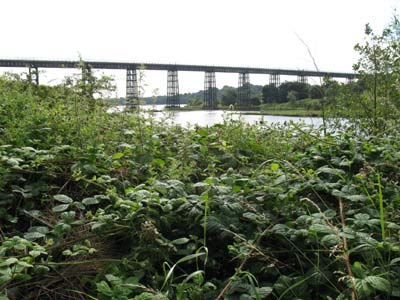 One of only three railway bridges on the Wansbeck, this bridge is located about one mile from the river mouth and carries the Blyth and Tyne railway from Tyneside to Ashington and until 2015 went beyond to the Lynemouth coal-fired power station but now that it is closed for conversion to biomass fuel the line is not used to carry coal and the line from West Sleekburn Junction north to Ashington and Lynemouth is not in use. There were normally two workings daily on weekdays. Until 1964 it carried passengers and until the colliery closures was very busy with coal trains and returning empties. Formerly a wooden trestle structure, 1071 feet in length and 86 feet from river bed to rail level, and built for the Blyth and Tyne railway in 1859, the present bridge dates from 1926 according to the website of the Cleveland Bridge Company who built it, or 1927 or 1929 according to other sources. Work commenced in 1925 and it is 1042 feet in length between abutments. It cost £90,000 and was built for the London and North Eastern Railway. The line was originally intended to run north to Ellington, Widdrington and Amble but only continued to Ashington with a sharp right turn to Newbiggin indicating that this town was to have been served by a branch line off the proposed main line which never happened.
The bridge is a striking one and stands out when seen from the footpaths on either side of the river. It is of course, black, accounting for its nickname, the Black Bridge.
North Seaton Rail Viaduct Facts
Constructed - 1926

Type - plate girder, 14 span, steel braced towers or trestles on concrete foundations.

Position: North Seaton, Northumberland.

Grid Ref: NZ 277 858
North Seaton Railway Viaduct