CHANTRY FOOTBRIDGE - MORPETH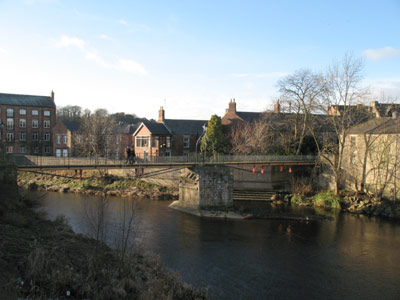 The Chantry Footbridge has been built on the site of a mucn older bridge. This was a two arch bridge, probably 13th century. In 1869 an iron footbridge, replacing a wooden one was constructed using the central pier and abutments of the demolished older bridge. It was refurbished in 2004 with new lighting and links Bridge Street with Hill Gate on the south side. (See also Former Bridges).
At the north end of the footbridge is the 13th century chantry or chapel, dedicated to All Saints. It lwas later used for various purposes before being restored in 1980, and is now a tourist information
centre, craft centre and museum, though damage sustained in the 2008 floods put it temporarily out of use. There is a weir just upstream.
Chantry Footbridge Facts
Constructed - 1869

Type - beam, iron, 1 stone pier.

Position: Morpeth, Northumberland.

Grid Ref: NZ 201 858
Chantry Footbridge