FINCHALE FOOTBRIDGE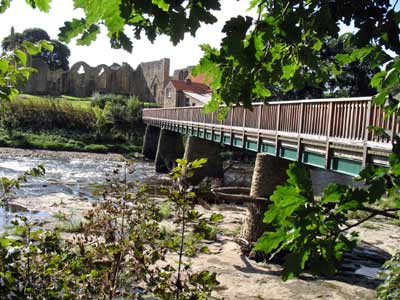 "After Durham itself, by far the most important monastic remains in the county, though compared to Fountains and Rievaulx further south in Yorkshire, only a minor Benedictine house and by no means as spacious or as grand. The situation is lovely. The river Wear forms a loop and plays its part in pictures of the ruins from three sides. The far bank is thickly wooded so that, on approaching the priory from the west or standing in the church and looking east, the background is always a wall of lush trees.

The Buildings of England, County Durham. Nikolaus Pevsner. 1983.
One of the most attractively set bridges on the Wear, this is a former toll bridge replacing a ferry and stepping stones. There may have been an earlier bridge on the same piers. From Finchale Priory on the south bank it leads via steep steps up to the road above. The footbridge is quite a long one and gives fine views of the river and there are footpaths along the river bank. The ancient Benedictine priory is 13th century and is now managed by English Heritage. The bridge was freed from toll in the 1970s and has been much refurbished.
Finchale Footbridge Facts
Constructed - 1937

Type - beam, steel girder, wooden deck, 4 concrete/stone piers.

Position - Finchale Priory, County Durham.

Grid Ref: NZ 297 473
Finchale Footbridge