LAMBTON ROAD BRIDGE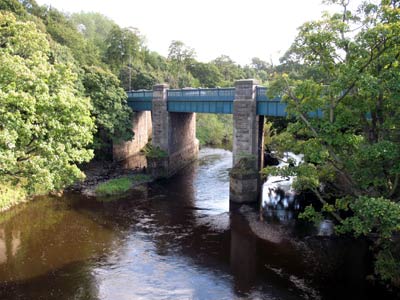 "The parish church .... stands on ground hallowed by the presence of the body of St Cuthbert, brought here from Lindisfarne on its wanderings in 882. It lay buried for a hundred and thirteen years before the monks guarding the sanctuary took to their travels again in fear of Danish raids, and during this time Chester le Street became a place of importance."

"The one hundred and fifty-six-feet spire was built in 1400 and is the finest in the county."

The Companion Guide to Northumbria. Edward Grierson. 1976.
On the A183 road from Chester-le-Street to Shiney Row and Sunderland, this bridge is similar to those at Croxdale on the Wear and Swalwell on the Derwent. The contractor was Sir Robert McAlpine for Durham County Council. Like its two sister bridges it has stone faced abutments and piers, the parapets being of cast iron. The river here is wooded and a footpath goes all the way upstream to the County Cricket Ground.
Lambton Road Bridge Facts
Constructed - 1926

Type - beam, steel.

Position - Chester-le-Street, County Durham.

Grid Ref: NZ 284 513
Lambton Road Bridge