VICTORIA RAILWAY VIADUCT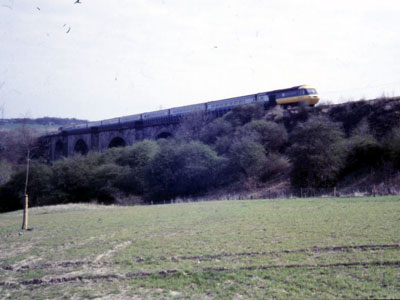 "Is there any other place where one can stand beneath a 'Roman' viaduct and see a 'Greek' temple near by?

The Builidngs of England, County Durham. N Pevsner. 1983.
An impressive railway viaduct, currently out of use, it soars high above the Wear south of the village of Penshaw and east of Fatfield. It once carried the Leamside line from Pelaw to north of Ferryhill which was formerly part of the main line from Newcastle to London until 1872 when the line was re-routed via the Team Valley and Durham. It was designed by Walker and Burges, engineer T.E. Harrison, builders John Gibb and Son of Aberdeen and built for the Durham Junction Railway from 1836 to 1838. Although it was opened in 1838 on Coronation Day it was not used by trains until the following year. It is 135 feet high and is 810 feet long and has the second longest single span arch in Britain, after the Ballochmyle Viaduct near Mauchline in south west Scotland, which is 169 feet high. It carries a single line which last carried trains in 1991 when it was mothballed. Before closure it was used by freight trains and by diverted passenger trains when the main line was closed for maintenance. Some pictures of trains using the viaduct taken in 1984 are shown below.
Supposedly based on the Roman bridge at Alcantra in Spain of 135 AD it cost £40,000. On a hill to the east stands the prominent landmark, Penshaw Monument which was built in 1844 and dedicated to the first Earl of Durham, John George Lambton and based on the Greek temple of Theseum in Athens.
Victoria Railway Viaduct Facts
Constructed - 1838

Type - arch, stone,.

Position - Penshaw, Sunderland.

Grid Ref: NZ 320 546
Victoria Railway Viaduct