EASTGATE RAILWAY BRIDGE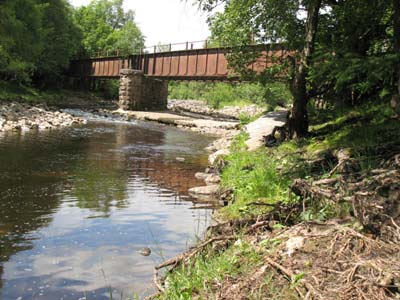 One of several railway bridges on the Wear Valley Railway, this one was part of the line's extension to Wearhead opened in 1895. Located to the west of the village near the former cement works it has been disused since 1968. The Blue Circle (later Lafarge) cement works opened in 1964 and had a siding that branched off the railway just before the bridge, on the north side of the Wear. The bridge is in poor repair at present.
Eastgate was the eastern boundary of the medieval bishops of Durham's deer park and is a small village on the A689 road.
Eastgate Railway Bridge Facts
Constructed - 1895

Type - beam, iron, 2 span, on stone abutments and pier.

Position: Eastgate, County Durham.

Grid Reference: NY 950 383
Eastgate Railway Bridge