LAMBTON ESTATE, NEW BRIDGE
(OR IRON BRIDGE)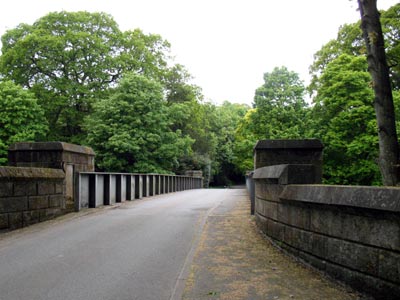 "Lambton Castle stands as a memorial to the wealth won underneath it."

About Britain. No. 10 The Lakes to Tyneside. Sid Chaplin. 1951.
One of two bridges on the Lambton Estate this is a relatively modern, 20th century structure. Unlike the Lamb Bridge it has no weight limit and links the many estate roads on either side of the Wear. Lambton Castle is on a hill just to the north.
The Earl of Durham's estate is heavily wooded and the stretch of river running through it is over two miles in length. Coal mines once existed under the estate, the coal being taken in keel boats down river for onward shipment. The remains of a footbridge lie just downstream of the bridge, (see picture below.)
Lambton Estate, New Bridge Facts
Constructed - 20C

Type - beam, steel, stone abutments.

Position - Lambton Estate, Chester-le-Street, County Durham.

Grid Ref: NZ 302 528
Lambton Estate, New Bridge