LAMBTON ESTATE, LAMB BRIDGE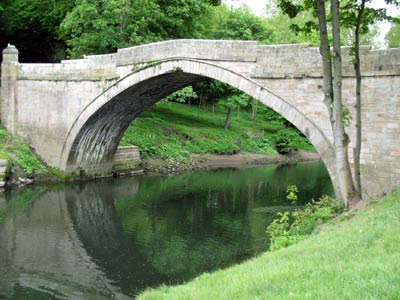 "At the NW entrance Bonomi's heavily classical gate piers surmounted by massive blocks carved with the Lambton insignia. The SW drive passes over the Wear just without the park walls over the medieval New or Chester Bridge, beneath Bonomi's tall arched gateway (plus lodge) of 1815 and through the parkland of the original Lambton Hall before crossing the Wear again in one 82 ft span by Bonomi's magnificent Lamb Bridge (lambs on the abutments)."

The Buildings of England, County Durham. Nikolaus Pevsner. 1983.
A private bridge on the Lambton Estate it was designed by Ignatius Bonomi and is one of the Wear's most attractive bridges. It has an 82 foot span and on the abutments at each of the four corners is a pedestal with a carved stone lamb. There are cast-iron railings at each end and it is Grade 2 listed.
The bridge has been much affected by subsidence resulting from former coal mines on the estate and is subject to a weight restriction of 1.5 tonnes and a speed limit of 5 mph for estate traffic. Once flat, it now has a hump-backed profile and further movement of the bridge is being monitored. The bridge marks the tidal limit of the river. A stone downstream of the bridge marks the height to which the river rose during the floods of 1771.
Lamb Bridge Facts
Constructed - 1819

Type - arch, single arch.

Position - Lambton Estate, Chester-le-Street, County Durham.

Grid Ref: NZ 295 525
Lamb Bridge