CHESTER NEW BRIDGE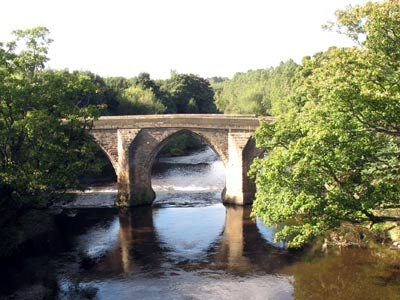 "Two miles from Chester-le-Street is Lambton Castle. On the Sunderland road which leads to Lambton is a fine 14th century bridge with four sharply pointed arches, each with five wide ribs, spanning the Wear. On the parapet are worn letters commemorating "Charles Swinburne's Leap", when a horse and its rider fell over the parapet and were killed."

The Bridges of Northumberland and Durham. Frank Graham. 1975.
An attractive 15th century bridge, it is fairly narrow and leads from the A1052 near Chester-le-Street to the Lambton Estate via a handsome arched gateway of 1815 by Ignatius Bonomi. The bridge, Grade 2 listed, was by-passed by the new Lambton road bridge in in 1926. There are triangular cutwaters between the arches and fine views of the river can be obtained from the bridge. The wooded banks of the river stretch away downstream. There may have been an earlier bridge on this site.
Chester New Bridge Facts
Constructed - 15C?

Type - arch, stone, 4 arches.

Position - Chester-le-Street, County Durham.

Grid Ref: NZ 284 513
Chester New Bridge