BROADWOOD RAILWAY BRIDGE
FROSTERLEY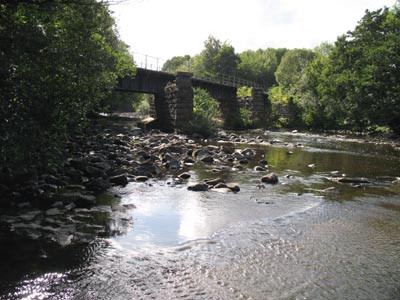 Another railway bridge built for the Wear Valley Railway which exploited the rich mineral deposits in the area, though passenger services were also provided. Originally a wooden structure, the present bridge is now on the Weardale Railway from Bishop Auckland to Stanhope. The river bed here is very rock strewn and the banks are lined with trees.
Frosterley is a large village noted for its Frosterley marble, not a true marble but a limestone containing fossilised corals which is cut and polished to beautiful effect. Examples are found in Durham Cathedral and in some local chuches and other buildings.
Broadwood Railway Bridge Frosterley Facts
Constructed - 1847

Type - beam, iron, 3 stone piers.

Position - Frosterley, County Durham

Grid Ref: NZ 035 368
Broadwood Railway Bridge Frosterley