STANHOPE EAST RAILWAY BRIDGE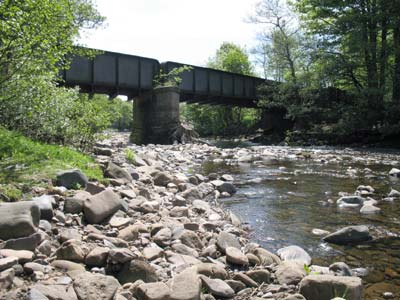 Built on a similar pattern to the Rogerley Railway Bridge this bridge stands to the south east of Stanhope railway station and crosses the Wear from south to north. Part of the Wear Valley line extension, it carried passengers until 1953 and was reopened for passenger traffic, initially in 1988, and after some interruptions to the service in the years since then it continues in use today on the Weardale Railway. The first railway bridge here opened in 1862 but was destroyed in the floods of 1881. The present bridge was probably built soon after that date and a temporary bridge served until its completion.
The passenger Stanhope - Bishop Auckland Community Service on Weardale Railway was discontinued at the end of 2011.
Stanhope East Railway Bridge Facts
Constructed - 1880s?

Type - beam, iron, stone abutments and pier.

Position: Stanhope, County Durham.

Grid Ref: NY 999 385
Stanhope East Railway Bridge