KILLHOPE CROSS AND SOURCE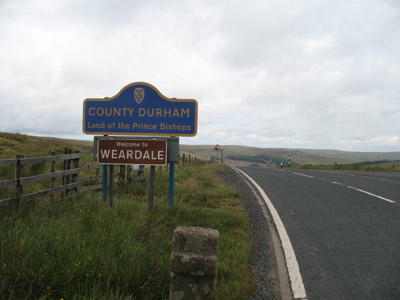 "Looking west you can see the dark shapes of mountains: the Cross Fell range, which gives birth to the great rivers. From Teesdale to the Tyne Gap is fell country, open, wild and free, with a bare grandeur of its own. The river valleys are thinly populated, but their people have an intense local patriotism, and if native ballads like The Rookhope Ryde are no loger sung in Weardale, there is still a dialect peculiar to this 20-mile stretch of valley."

About Britian. No. 10. The Lakes to Tyneside. Sid Chaplin. 1951.
The head waters of the Killhope Burn consist of several streams rising in the hills close to Killhope Cross in the East Pennines. The three great rivers of the North, the Tyne, the Wear and the Tees all have their source wihin a few miles of each other.
The Killhope Cross is of sandstone and marks the county boundary between Durham and Cumbria with Northumberland a little to the north. The A689 road is one of the highest in England with a summit at 623 metres and descends quite steeply on either side of the border.








Killhope Cross and Source Facts
Constructed - not applicable

Type - not applicable.

Position: Killhope, County Durham.

Grid Ref: NY 799 433
Killhope Cross and Source