PREBENDS BRIDGE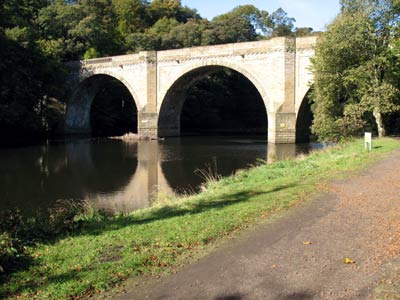 "The view from the castle itself at the top of a steep hill is very grand and Edinburghesque; but when you cross the Wear by the Prebends' Bridge and, ascending through its beautiful skirt of wood, plant yourself on the hill opposite the cathedral, the view of the cathedral and castle together is superb; even Oxford has no view to compare with it."

Matthew Arnold. 1860, quoted in Nothumbria, A Portrait in Landscape. 1994.
A particularly handsome bridge it was designed by George Nicholson, the architect to the Dean and Chapter of the cathedral. The previous stone footbridge was destroyed, like so many others in the north east, by the 1771 flood, and was slightly upstream. At one time a ford and ferry existed here and a wooden footbridge on stone piers was built in 1574 to be replaced by a stone footbridge in 1696; an abutment can still be seen on the west bank. It was restored in 1955/56 and is Grade 1 listed.
The bridge links the peninsula containing the cathedral and castle with the city to the west and footpaths lead to it on both sides of the river. Since 2011 it has only been in use as a footbridge due to structural damage. In summer boats can be hired and rowed around the peninsular.
Prebends Bridge Facts
Constructed - 1778

Type - arch, stone, 3 arches.

Position - Durham, County Durham.

Grid Ref: NZ 272 418
Prebends Bridge