QUEEN ALEXANDRA BRIDGE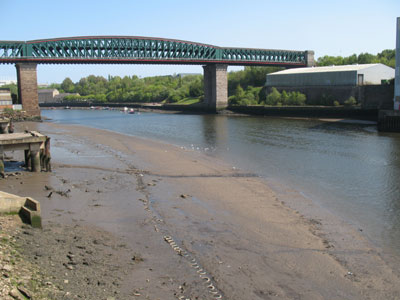 Built as a combined double-deck rail/road bridge only the road deck below is in use today and the bridge has been substantially modified to take account of this with the upper deck removed. It is a massive bridge and extends not only across the river but for some considerable distance over the land on either side. These approach works were built by Mitchell brothers of Glagow. The bridge was built for the North Eastern Railway Company to carry coal from north west Durham pits to Sunderland and to improve communications by linking roads on either side of the Wear. Ferries were the previous means of crossing at this point. It was designed by Charles A. Harrison and built by Sir William Arrol and Company Ltd. of Glasgow. The cost of £450,000 was shared with Sunderland Corporation. Work commenced in 1905 and the bridge opened in 1909, being named after Queen Alexandra, consort of King Edward the Seventh, and opened by the Earl of Durham. The main river span is hog-back/arched. The piers and abutments are built from granite, while sandstone and bricks are used for the approach viaduct on the north side.
The railway bridge was last used in 1921 and was disamantled in 1985. The remains of the railway approach viaduct can be seen in the lower photograph. Major renovation was carried out in 2005/2006. It is Grade 2 listed.
Queen Alexandra Bridge Facts
Constructed - 1909

Type - box girder, lattice steel, 3 piers.

Position - Sunderland.

Grid Ref: NZ 382 578
Queen Alexandra Bridge