WITTON PARK RAILWAY VIADUCT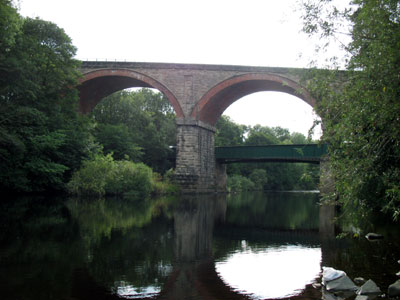 This is a large railway bridge crossing the Wear near Witton Park. it was built as part of the railway from Darlington to Bishop Auckland, Crook, Tow Law and Blackhill and later up the Wear valley to Frosterley and beyond on the line diverging at Witton Junction to the north. It replaced a wooden viaduct of 1843, being erected in 1854 and built largely of stone. The road bridge to Witton Park passes through the viaduct arch relying on the centre arches of the viaduct for support to which new abutments were attached. The railway passes through Witton Park which once had a station called Etherley, closed in 1965 but re-opened briefly in 1991 as Witton Park as part of the Wear Valley railway project.
The viaduct is set amid woodland and on the downstream side there is a ford, built to aid the extraction of gravel and sand from the river.
Witton Park Railway Viaduct Facts
Constructed - 1854

Type - arch, stone, 5 arches

Position - north of Witton Park, County Durham

Grid Ref: NZ 170 308
Witton Park Railway Viaduct