YARM ROAD BRIDGE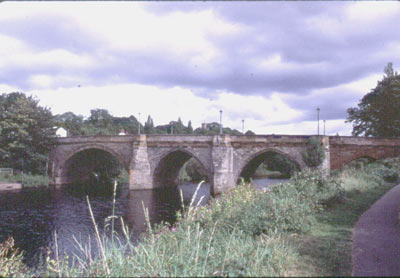 "Yarm makes a good beginning to the North Riding for anyone coming from the North. You start with the bridge, still that built by Bishop Skirlaw of Durham about 1400, even if much repaired since, and have at once by your side the grand Railway Viaduct of 1849, brick, but with two wider arches of stone."

The Buildings Of England. Yorkshire - The North Riding. N Pevsner. 1966. 2000
A rebuilding of an earlier (13th century) wooden bridge dating from around 1400, the stone bridge has undergone improvements over the years, especially in the 19th century after replacment in 1805 by an iron bridge one of whose arches collapsed into the Tees owing to poor construction of an abutment. The old bridge was brought back into service after widening to 7.3 metres in 1806. The northern arch incorporated a drawbridge from the 17th century until 1785 and during the English Civil War in 1643 a battle took place when Royalist troops attempting to cross on their way to York were attacked by Parliamentary forces who were defeated.
The bridge was an important crossing point and was the first point from the sea at which the Tees could be crossed until a bridge was built at Stockton. It was built on the orders of Bishop Skirlaw of Durham. Yarm, an old town, was the major port on the Tees until the 18th century and sloops and small schooners continued to use Yarm until about mid 19th century. It is situated on the south side of the river opposite Egglescliffe.
In 1803 requests for a new bridge surfaced, concerns being raised that the old bridge piers obstructed the river water flow and helped caused flooding in Yarm. An iron bridge was completed late in 1805 and just prior to being opened early the next year the iron arch fell.


Yarm Road Bridge Facts
Constructed - 1400?

Type - arch, 5 stone arches.

Position: Yarm, North Yorkshire

Grid Ref: NZ 418 132
Yarm Road Bridge