EGGLESTON BRIDGE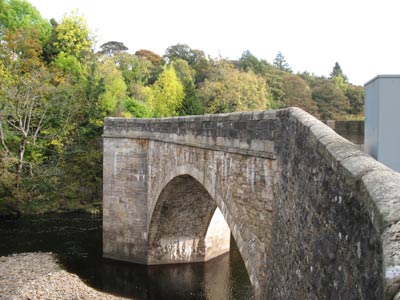 An old bridge, probably 17th century, a rebuilding of an earlier bridge of about 1450. A narrow 2-arched stone bridge it once had a chapel built on it. The present bridge was repaired in 1982 when it was closed to traffic, but is not visibly altered.
Nearby Eggleston, to which village the bridge gives access, is the only village on the Durham side of the Tees between Middleton and Barnard Castle. At the top of a hill leading to the bridge, it had associations with lead smelting at nearby Blackton. The village of Romaldkirk stands on the Yorkshire (though now part of County Durham) side, about a mile south. Here is a village green adjacent to the 12th century church and partially ringed by houses.
Just downstream from the bridge is the end of Kielder Tunnel which carries water as needed from Kielder Water to the Tees via the Rivers Derwent, Tyne, and Wear and thence to the water treatment works near Darlington.



Eggleston Bridge Facts
Constructed - 1450?

Type - arch, 2 span.

Position: Mickleton, County Durham.

Grid Ref: NY 997 232
Eggleston Bridge