MIDDLETON-IN-TEESDALE BRIDGE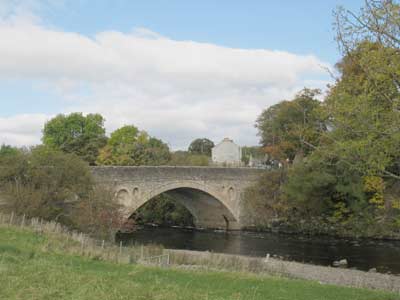 "Middleton itself sleeps as if waiting for the next train or for John Betjeman to sing the praises of the wrought-iron drinking fountain. Sadly, neither will ever come to pass for the line was axed by Beeching and the Poet Laureate has gone where even yellow and black paint does not corrupt. Middleton, though less of a 'ton' and more of a large village, is the headquarters of the Raby estate."

England's Last Wilderness. A Journey Through The North Pennines. David Bellamy and Brendan Quayle. 1989
Though Middleton is, in fact, far from being sleepy, the County Bridge replaced an earlier bridge which collapsed in 1881 while yet uncompleted and resulting in the death of a man and his wife. It has a single arch and was strengthened in 1983-84, traffic being diverted over a temporary Bailey bridge meanwhile. The bridge is located south of the town on the B6277 road further along which once stood the railway station, at a few hundred yards distance from Middleton. The railway of 1868 closed to passengers on 30 November 1964.
In the 19th century Middleton became a centre of the lead mining industry with the advent of the London Lead Company and houses, schools and chapels followed. With the decline of lead mining the population fell but now the town is still busy with the people of the dales whose numbers are added to by many visitors in summer.
The farms of upper Teesdale held by tenants on the Raby estate are distinctively whitewashed and stand out against the hills. A spectacular road leads uphill and across the moors, past former quarries, finally descending to reach the Wear valley at Stanhope.
Middleton Bridge Facts
Constructed - 1853

Type - arch, single span, stone.

Position: Middleton-in-Teesdale, County Durham.

Grid Ref: NY 947 253
Middleton Bridge