COTHERSTONE FOOTBRIDGE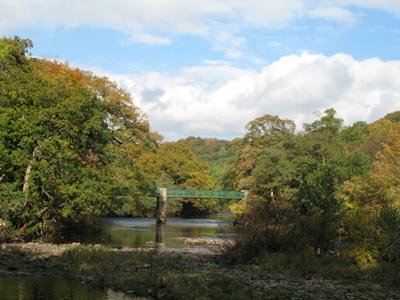 Near the attractive village of Cotherstone the River Balder joins the Tees. Upstream, a footbridge crosses the Tees itself where it flows in a north-south direction. This is a pleasant spot, with Cotherstone on the south bank, and woods and grassland near by. The Balder also has a little footbridge which must also be crossed to reach the Tees from the village.
The Tees footbridge replaced two earlier ones. The first, a timber bridge, was replaced following flood damage in 1881 and the second was a suspension bridge whose cable snapped in 1929 with 40 people on the bridge, killing one. The present bridge was built by Joseph L Thompson and Sons Ltd of Sunderland.
Once crossed the Teesdale Way runs north west from the bridge along a pleasant river bank path through woodland. There are walks on both sides of the Tees going east. Cotherstone is a long village with two greens and dairy farming locally has been responsible for Cotherstone's famous cheese. Once there was a railway station here on the Middleton-in Teesdale branch.
The river Balder is fed by three reservoirs. The biggest near the head of the river is the Balderhead Reservoir, followed by the Blackton and then the Hury, all seperated by dams.
Cotherstone Footbridge Facts
Constructed - 1932

Type - beam, lattice girder, 2 spans.

Position: Cotherstone, County Durham.

Grid Ref: NZ 013 202
Cotherstone Footbridge